You deserve to be spoiled!
Welcome to Buttered N Bliss All Natural Body Treats! All of our products have natural properties, therapeutic benefits and deep moisturizing qualities. Our exclusive product line, which includes Body Butter, Body Oil, Relaxing Bath Salts, Foaming Sugar Scrubs, and a hydrating face oil, was created to remind you of the importance of taking care of you and the necessity of a personal pampering experience! We are excited for you to try our products because we are confident that they will leave your skin feeling pampered, smooth, moisturized, glowing and healthy!
Shop Skincare
Customer Testimonials!
I purchased the cocoa cashmere body oil and scrub at the fair a couple weeks ago. I Am obsessed! I've added them to my self-care shower routine. Absolutely love the way the oil makes my legs feel afterwards! (Never tried body oil before this!)

Katie
I bought an oil and scrub in the scent give me some suga at a local county fair and I can't even tell you how much I love it!!! I just compared it to my ride or die neutrogenia body oil and this one is so much more hydrating and it doesn't feel greasy AT ALL! I love it. I am obsessed I will absolutely be reaching out soon to get some more!

C.C.
First of all, it smells so divine. I have very dry skin and I was so surprised how great this product works. I let my mother use some and she loves it too!

Latoya L.
I got the Hydrating Face Oil at the Santa Maria fair, and I've been using it for a couple days. My skin feels so much softer and this has been hiding what's left of my acne scares would definitely recommend!

Justin S.
I love the candied apple cutie scent! It smells so sweet and fruity. My boyfriend also loves the scent on me. All of the body butter scents I've tried are amazing. Just the right amount of fragrance and not too overpowering. I put it on right after a shower or bath to lock in the moisture and my skin feels so soft and smooth! Give it a try and thank me later. :-)

Alareen
This body butter is so silky and hydrating. It just melts into my skin and smells amazing. It makes your skin just glow! 

Noelle
Girl, your body butter feels so good on my skin after getting out the shower. I love how light and creamy it is and the fragrance isn't overwhelming. It would also be perfect to use right after shaving as well!

Rachon
I am so so impressed this is 6 stars. I'm usually am a Bath and Body Works person, but I have found something better ... it's natural, cleansing, moisturizing and you feel good! YES !


Christi T.
Kristen was such a great professional help when I
explained to her my sensitive skin type & what it
likes/dislikes. I have been going through a
breakout stage recently & don't like to use store
bought products on my face because my skin
reacts! She recommend I use the body butter like a
face moisturizer, just go light. Since using this
citrus passion, my skin has been healing & clearing
up so beautifully! The moment I put it on my skin,
it just brings a calm & the smell is so uplifting!
Absolutely recommend her products to everyone,
she is official my new go-to for skincare essentials!

Cherice
Our Story

WHO WE ARE
Our story started in 2020, during the midst of the pandemic. Finding products that actually felt authentic and customized for dry and sensitive skin seemed very much out of reach: store bought products all promised the same results but there was no long term satisfaction. That's when Kristen, the founder and curator of Buttered N Bliss All Natural Body Treats, started researching various natural butters, carrier oils and their unique and distinct properties. She wanted to treat her own dry and sensitive skin issues with natural products since she is passionate about holistic healing. After many many months of experimentation, product testing and trial and error, Kristen launched the online store Buttered N Bliss in July 2020 as an online skin care boutique, specializing in products that nourish, hydrate and deeply moisturize your skin.

WHAT WE DO
Since then, BNB has expanded to doing several in-person events each year, and has graced the shelves of local beauty salons in Las Vegas. Since our product line is curated in Las Vegas, it is very important for us to create skincare products that not only moisturize the skin, but incorporate nourishment and restoration, creating an unforgettable self-care experience.
In addition to our signature whipped Body Butter collection, The BNB product line offers body and massage oils, relaxing foot soaks, Raw African black soap, foaming soap sugar scrubs, and face oils!

WHY WE DO IT
Our WHY is because we are passionate about helping you feel confident and secure with your skin, and we encourage you to implement skin loving ingredients into your daily skincare routine.

One of our favorite aspects of Buttered N Bliss is serving our customers. We truly enjoy helping you achieve healthy, glowing skin naturally as well as creating a space for understanding the importance of self-care and the necessity of pampering yourself. We encourage you to take time each day to do something that cultivates joy, rest, and well being. That's why our tag line proudly states, "Self-care is not an option, it's a priority!"  You deserve it! You matter!

We look forward to helping you achieve healthier skin care and inspiring you to pamper yourself more in the process!
Curator of Buttered N Bliss All Natural Body Treats
Exfoliate & Moisturize
Exfoliating your skin 2-3 times per week helps to get rid of dead skin cells.
Exfoliating also helps your skin absorb other products better.
Exfoliating helps your skin improve in texture and helps it glow!
Apply a whipped body butter or body oil immediately after using the foaming scrub in the shower for soft, nourished and moisturized skin!
I want to try it!
Buttered N Bliss is in the news!
Check out the feature article on Buttered N Bliss from the Solano County Fair in Vallejo, CA.
Buttered N Bliss news article!
Body oils are in for the summer!
Body Oil is a great choice for the summer! Why?

They are:
lightweight
Super hydrating
Scented
Great for in grown hairs
Filled with nourishing ingredients that help skin glow!
Take me to body oils!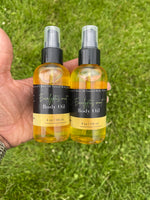 Self-Care is NOT Selfish!
Don't forget to join our loyalty program!