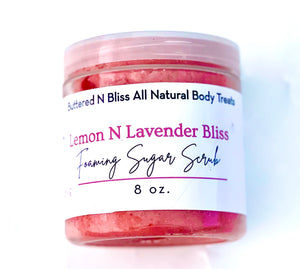 Our Lemon N Lavender Bliss whipped foaming Sugar Scrub is a part of the exclusive Sugar Scrub Collection. This foaming sugar scrub is designed to cleanse, exfoliate and moisturize your skin leaving you feeling oh so soft and sweet! If you're into pure essential oils, this sugar scrub is for you! Infused with Lavender and Lemongrass essential oils, this sugar scrub is perfect after a long day. Your senses will immediately feel relaxed with this fragrance combination. After using the Lemon N Lavender Bliss, your skin will thank you-our promise! 
The Lemon N Lavender Bliss foaming sugar scrub pairs well with the Lemon N Lavender Bliss Body Oil and/or the Lemon N Lavender Bliss Body Butter!
How To Use:
Apply to damp skin in a circular motion using either your hand or an exfoliating glove. 
Allow the scrub to lather. 
Rinse Well. 
Apply a body butter and/or body oil as a skin moisturizer!
For best results, exfoliate 2-3 times per week in the shower. 
Sugar scrubs are NOT recommended for the face. 
We love product reviews! Make sure to tag us on Instagram @butterednbliss or on Facebook at Buttered N Bliss All Natural Body Treats.
 Ingredients include: 
Foaming Soap Base
Castile Soap
Grape seed Oil
Jojoba Oil
Vitamin E 
Mica Powder
Fragrance 
Disclaimer: 
By purchasing our products, you are accepting full responsibility that the ingredients used don't interfere with any existing skin or medical conditions. Please note that we use nut based carrier oils in our products that may cause an allergic reaction to those with sensitive skin. (i.e. Almond Oil, Coconut Oil, etc) 
Please see the Disclaimer page for further information.
 Shipping:
We custom make each order to ensure that you have a pleasing experience. Please allow up to 3-5 business days to process, package and ship your order.  
All products will ship 2-3 day priority mail depending on your location via USPS. We are not responsible for further delays beyond our control. 
Hooked on sugar scrubs
I am enjoying this scrub . The lemon and lavender combination is powerful. Will be treating myself to a new scrub every month from now on :)